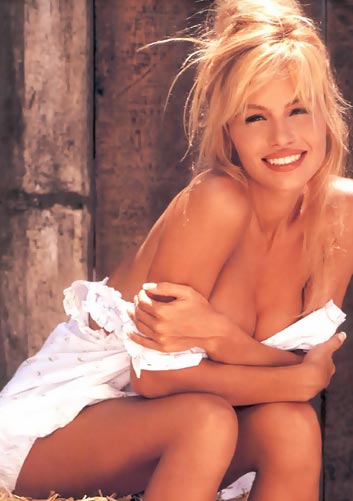 Did you ever notice that it seems almost "un-cool" to admit you like certain glitterati types?

So I've decided to come of the closet–right here & now–and scream it to the world: I am a Pamela Anderson fan! What red-blooded American male–any male, for that matter–can look at this picture and not get an instant woody? If I ever start playing for the home team, this is the kind of girl I wanna take home to mamma! Hell, I'd even call her mamma, if she asked! Kinky!
In the interest of full disclosure I have to admit that, while I did give Stacked a lookie loo (The premise–a sexy chick wreaking havoc amidst nerdish book-types–was right up my alley, after all.), I've never seen Bay Watch or any of her various other television incarnations; nor have I seen any of her movies. What I like about Pamela Anderson, what draws me to her, is the woman behind the brouhaha.
Yes, she is scald-your-eyes gorgeous. Yes, her voice is little-girl sexy. Yes, she fucks rock stars. (Would you turn down Kid Rock? Would you really?) Yes, she's had implants (I've heard she is now silicone-free and hope it's true, because she certainly doesn't need it.) Yes, she won't be starring in any adaptations of A Streetcar Named Desire or A Glass Menagerie or Death of a Salesman anytime soon.
Such fluff! You should be ashamed of yourself!
There's is much more to Ms. Anderson than the superficial patina of her public personae. Don't confuse the gig with the woman. Just like any of us, she's working what she's got. Pamela knows her tissue-clasping audience and plays to them. Considering her fame and fortune, I'd say she's working it just fine.
Behind the full lips, blonde tresses, long legs and killer bod, is a very astute business woman, devoted mother and passionate animal rights defender. Google her name (For text–not images–you singularly-minded perv!) and, like Jane Mansfield or Judy Holiday before her, you will find a much deeper side (ignore the hype and dig a little) of this modern-day fem fatale. Adjectives like strong, committed, courageous, intelligent, and savvy are just a few that come to mind.
What a dame! What a lady! What an inspiration!
(But don't go cheating on me with her, because then I will have to hurt you!)