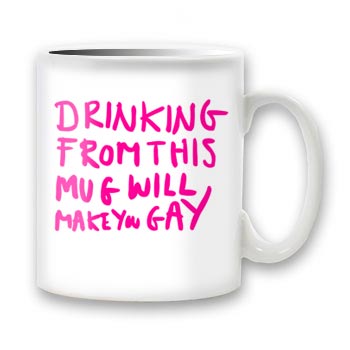 This mug is brought to you by Rob Manuel, the creative English bloke who created the Female or Shemale Quiz I sent you to yesterday. I think everyone should own one of these mugs. Vist Rob's store and get me one, too, while you are there.
Take it to work and watch how the office mates react. If they laugh, they are cool. If they are uncomfortable, then they just might have issues. If they ask you where you got it so they can get one, then they are just fucking awesome. And would be a lot of fun outside the office. You might suggest a night at a bath house. Or ask them if they'd like to go shopping at the leather emporium with you over the weekend.
You can check out more of Rob's quizzes (mostly work friendly, but you might want to turn down the volume) at his website. He sure seems to be having a heck of a lot of fun doesn't he?