The fourth is officially over. None too soon for me. Because I am not a big fan of picnics or volleyball or ants or extreme heat. I prefer dinner in front of the TV with a good friend, scrabble or boggle or trivial pursuit, and swimming or air conditioning.
But I did do the picnic thing today. A small affair just with my beloved mother. We watched a movie, ate (store bought) picnic-type deli foods and went for a walk. It was lovely and quiet. I was home before dark.
But later, making a quick run to the Seven Eleven, I actually saw two fireworks. So my holiday is complete.
And I hope you had a good one!
***
Reading my news updates as I had my morning java I ran across the funniest little bit of news. Just lQQk at what doctors removed from a fellow's anus: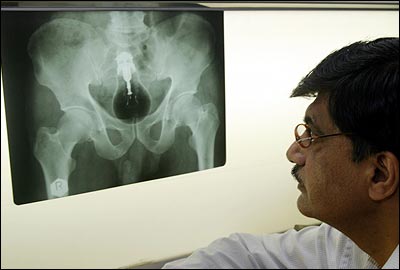 That white thing at the center of the xray, my friends, is a light bulb. If my suspicions are correct, this would be a perfect addition to Supervert's ever-growing encyclopedia of the weirdly obscene. But the patient, who is a Pakistanian prison inmate, swears he doesn't know how it got there. Yeah, sure.
***
Oh, and I have a joke for you (well, actually two):
Question: What do you get when you turn a blonde upside down?
Answer: A brunette
Now, I happen to be a brunette but love blonde jokes. So a friend sent me this one…which is just fabulous and certainly put me in my place:
Question: Why are blond jokes always so short?
Answer: So brunettes can understand them.
***
And speaking of blondes, if you're a fan of Pink's and/or The Indigo Girls…and not so much a fan of our current administration…you simply MUST watch this video: Dear Mister President. You can order the CD, I'm not Dead, at Amazon.