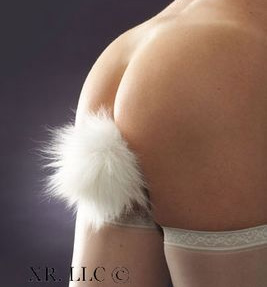 Say it isn't so and I'll call ya a liar.
Now, I am not personally into butt plugs and have no desire to have one inserted into my cute little (at least that's the rumor) bottom. Nonetheless, I think this is just frickin adorable.
So if you know a girl who (you think or hope or downright know) is dying to do the bunny hop for you, then you should be heading over to Extreme Restraints (and, before you ask, no I am not an affiliate) and pick one up. You could do worse. A lot of kinky people I know shop there quite often. Even some not-so-kinky people I know.
You can thank me later.
***
And…gone but not forgotten:

xo,   Angela