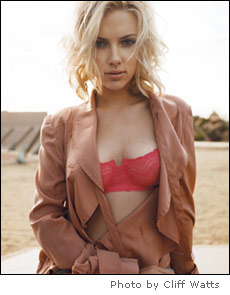 Previously: Original (males) Phone Sex Wish List Disclaimer: My lesbian desires have always been confined to the fantasy realm. I came close once, but that had a lot more to do with three martinis coursing through my usually temperate veins than any manifest desire to actually be with a real honest-to-goodness girl. I mean, gawd forbid, after all!
But, as you may have heard, Esquire Magazine recently named Scarlet Johansson "The Sexiest Woman Alive." Which, after seeing Lost in Translation and Matchpoint, I have to say that I concur. Funny how I'd missed all that smouldering sexuality in her earlier films. And isn't it funny how Woody Allen always figures this stuff out before the rest of us?
Anyway, it got me to thinking about womanhood and just how much sexier –and I say this having been called "disgustingly heterosexual" by a college friend/lesbian/best friend– girls tend to be than men. We are just exquisite in so many ways. Which brought me around to thinking maybe I should make a "female" Phone Sex Wish List. So, here you go:
I could probably think up a few more, but let's save that for another time. But, before I go, let me ask you this: Who is Cliff Watts? And doesn't he have just about the best job ever?
Toodles, Angela