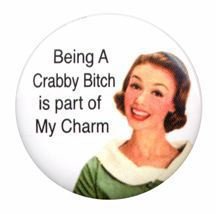 Yes, I am cranky at times. But you do so love me, dontcha? Just admit it; you know that you do.
The above button was sent by my sister (I have more…just you wait.), once again from her intra-office email. Because what else is corporate America doing these days but playing on the internet? We who work on the net don't find the silliness of email play quite so fascinating.  In fact emails can be quite a royal pain.
So what might a naughty & nice gal like myself have to be cranky about? Well…
Foxfire, which is usually awesome and I highly recommend as your browser of choice, actually lost all my bookmarks. I was furious and in a panic, as I tend to get with technical fuck-ups. But a good geek boy fixed it for me. (Thanks!)
I gave away way too much money recently –Christmas, don't you know?– and I just checked my bank balance. Ouch. Ouch. Ouch.
More snow tomorrow. (Dear God: Enough with the snow already! It was a nice touch for the holidays, but I've got places to go and people to see.)
I figured out how to replace my ink cartridges in my printer only to have the stupid thing start telling me there was a paper jam and there wasn't. I swear there wasn't. That one just about did me in. But it is better now. Thanks again to good geek boy.
I want a new car and a new condo. Girls who want such big ticket items need to learn to save their money rather than giving it away. I'm trying.
But I have lotsa good stuff happening too…and I happen to have a very appreciative heart despite my whining. I am gifted in that I can be cranky and happy at the same time.
And speaking of being gifted: As far as gifts went, I had the best Christmas since my childhood. And I do have awesome friends. Richard, Deviant Savant, Mistress V and Lyndee are just a few who come to mind.
And then there are my beloved callers who are just so fucking smart and downright adorable. I do believe that I have the cream of the crop when it comes to clientele. Just look at the commentary here at my blog. And they always say the nicest, sweetest things about me.
And I have a new hairdo which is simply fab!
***
By the way. Luscious Lyndee has been a very busy girl lately. She has a totally redesigned site, which you can see my clicking the above link. She also has recorded two fantasies which sound pretty interesting. I just might listen myself. You can find them here. But the biggest news is her new website, Pink Panty Cafe for sissies and panty boys. Make sure to check it out and visit often if you thrill to the idea of dressing up for a Mistress or lover or even a group of mean girls.
And if you are a PSO or owner/operator of an adult site looking for a talented, committed and creative webmaster to design your website, blog or even help you with HTML, check out Designs by Lovies. She is the wunderkind who took Lyndee's ideas and brought them to fruition.
I am off to bed. Wish me sweet dreams. Or at least a few dirty ones.
xo, Angela