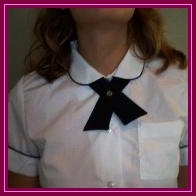 'Cuz we rock, don't ya know?
A Comedian

Lisa Landry ~at her website ~on My Space.
A Poem
Vocations Club ~Paula Sergi

We met on Tuesdays after school
with Sister Mary Agnes,
the two Mary Lous, Julie, Kay and me
to learn about being nuns.
The convent sounded good;
a room of my own, a single bed,
time to think and pray, no fighting
over what we'd watch-Bonanza versus Dragnet,
or who would get the couch.
I dug those crazy nun outfits, and hated hand-me-downs
with too long sleeves and too tight waists.
I'd take the smell of polished wood and incense
over burnt grilled cheese and sour milk.
I'd have a good job, teaching kids
and all the chalk I'd want,
long, unbroken pieces that echoed off the board,
all eyes on me as I'd tap directions,
conducting my classroom all day.
People, I'd begin, today we're talking about…
whatever I want to!
Nuns got great rosaries with fancy beads
and lots of gifts at Christmas.
And the solitude of celibacy sounded pretty good,
better than worrying about French kissing
like my sister, better than pining for men,
like mom, whose men left anyway.
A Joke
(courtesy of my sister's Email)
A train hits a bus filled with Catholic school girls and they all perish.
They are in heaven trying to enter the pearly gates when St. Peter asks the first girl, "Tiffany, have you ever had any contact with a male organ?"
She giggles and shyly replies, "Well, I once touched the head of one with the tip of my finger." St. Peter says, "Okay, dip the tip of your finger in the Holy Water and pass through the gate."
St. Peter asks the next girl the same question, " Sandra , have you ever had any contact with a male organ?" The girl is a little reluctant but replies, "Well, once I fondled and stroked one." St. Peter says, "Okay, dip your whole hand in the Holy Water and pass through the gate."
All of a sudden, there is a lot of commotion in the line of girls. One girl is pushing her way to the front of the line. When she reaches the front, St. Peter says, "Reva, What seems to be the rush?"
The girl replies, "If I'm going to have to gargle that Holy Water, I want to do it before Jessica sticks her ass in it."