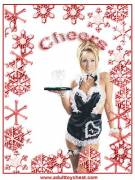 Some of you are surely familiar with Kinky Cards, which has been on the web for at least as long as I have … and who knows how much longer. As you can see, I was the lucky recipient of one of their cards today, and — being totally unexpected — it really made my day. (Thank you, Mr. D.)
If you've been wanting to send a Christmas Greeting with just a bit of an edge to it, or maybe even a big edge, then you can't go wrong with Kinky Cards. There is a generous selection of cards for every occasion, from Halloween to birthdays to Valentine's Day. A fairly new and darling Vintage Collection features specific categories such as Lingerie, Voluptuous Vixens, Foreplay (very romantic and pretty), Corsets and Naughty Girls. Even if you don't want to send a card, it is fun to look around. Every time I visit I end up browsing the site.
So we're almost to the big day, huh? Me? I'm still wrapping and curling ribbon, but I can finally see the light at the end of the tunnel. All the stuff I had to mail went out Wednesday and you don't even want to know what I spent on postage. I thought I'd started early enough, but, alas, once again…here I am running around like a mad woman. Next year, please remind me to start getting ready in July. I think that is the only safe bet.
A Christmas Poem
'Twas The night before Christmas,
And all through the house,
Not a creature was stirring,
So I took their stereo.
Ten Reasons a Christmas Tree is Better Than a Woman
A Christmas tree doesn't care how many other Christmas trees you have had in the past.
Christmas trees don't get mad if you use exotic electrical devices.
A Christmas tree doesn't care if you have an artificial one in the closet.
A Christmas tree doesn't get mad if you break one of its balls.
You can feel a Christmas tree before you take it home.
A Christmas tree doesn't get mad if you look up underneath it.
When you are done with a Christmas tree you can throw it on the curb and have it hauled away.
A Christmas tree doesn't get jealous around other Christmas trees.
A Christmas tree doesn't care if you watch football all day.
A Christmas tree doesn't get mad if you tie it up and throw it in the back of your pickup truck..
xo, Angela