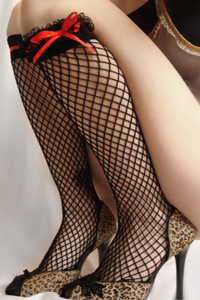 You may have noticed I've been kinda-sorta redecorating. Blistered Lips is in its 3rd or 4th incarnation. I am loving the new look and probably will be sticking with it for a while. At least I hope so. Mostly I try to keep things simple. No matter where you find me, you don't find a whole lot of T&A because, well, if you have a search engine, you can easily find the dirty pictures all by yourself. (Of course if you're in a jam and want your eye candy on the fly and with no fuss or muss, you can add this guy to your bookmarks. Why? Because I did. And if it's good enough for me, well, it's good enough for you.)
So, yeah, not a lot of dirty pictures here.
Except …
Here at Zen Fetish, what I have done is implemented a new editor, actually a second new editor, and am playing around with exactly which of the two better serves my needs. My main reason for doing this is to include a thumbnail at the beginning of most entries, which wasn't possible with the original editor. Or maybe it was and I was just too dumb to figure it out.
Anyway, I thought that just a little picture tying into the entry's theme or topic, or even just to provide a bit of eye candy might be nice for my readers. You can let me know what you think. Really, you can. I welcome the good, bad and ugly. Just don't get too ugly. Remember, I do have a Bitch Goddess streak in me.
Also, I put my two awards up in the side bar, because I'm such an egomaniac and wanted to brag. The Cunning Linguists Journals box? Click on it every day. It helps me out. Really it does. But just once a day. And check out where it takes you, because there are a lot of other bloggers that you will find there, some of whom just might be your particular cup of kink.
You may also have notice the book advertisement for Fetish Sex: An Erotic Guide for Couples. Don't be shy, click the link (over there —->)and read all about it. And if you want to buy it, be my guest. If not, that's okay too. It's not that I make huge amounts of money, believe you me. But it does make me look good as an Amazon associate.
The other thing I did was downsize the category and archives so that there is now a drop-down box for each. It takes up way less space and is much less distracting, yet is still handily available for the enthusiastic and/or smitten visitor.
So I think it's looking pretty good around here. I hope you think so, too.
***
I went running around today and, besides grocery shopping, got my hair and nails (pedicure and manicure) done. Yum yum! I feel gorgeous. I keep thinking I'm going to give up the fingernails, but just never can resist. Giving up the pedicure isn't even an option.
***
I had to fight snow on my way back home, so I'm rather tired this evening and am going to take a night off of the kink-O-phone. You better miss me. Or else.
xo, Angela