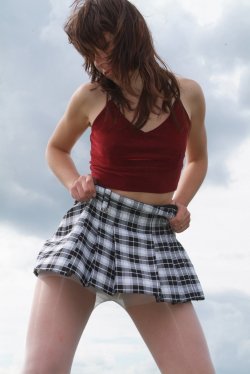 She's kicking ass and taking names. Well, not really, not the "taking names" part, because she doesn't really care about you or your name too much. She goes by the name of Angel, although she wants certain loser boys (each and every one of you, so quit hiding behind you're mama's skirt) to know that she is certainly NOT YOUR ANGEL! And she's got your number. Again, not really. But you can have hers:
1 – 800 – 863 – 5478 ext. 02743336.
Cute, sassy and downright cruel (when the occasion requires such), Ms. Angel is a personal friend of mine, and I can tell you straight up that this little lady does not suffer fools gladly. She has a sixth sense when it comes to men. And if you're a weak pussy-boy thinking your frail, manly facade will keep you safe? Well, think again, because, quite frankly, your ass, your heart, and even your money will be Angel's in no time. That is if you can even muster up enough testosterone to give Angel a call.
Angel happens to like to play games with boy-toys. And she has two very special games — one for up-skirt fetishists and one for foot fetishists — which you just might want to play ASAP, before you stick you neck out and actually call. Look at it this way: the gesture might melt her cold heart just a smidgen, so that maybe she won't be the Sugar Coated Cunt she usually is. You can find both games here: Angel @ NiteFlirt
If you finally do get up the nerve to call Angel, do let me know. I want all the grisly details. There will be blood! So make sure you've got some bandages handy.
xo, Angela