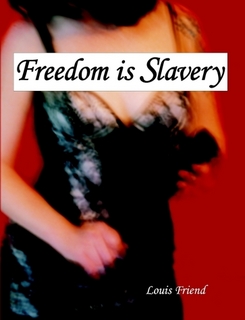 No, I'm not talking about a purse or a handbag.
Although a nasty little story involving a a FemDom and what she pulls from her Louis Vuitton would fit quite nicely over at Blistered Lips. Hmmm. I'll have to give that more thought.
So what I'm talking about here is the pocket book (two words, not one) defined at Dictionary.com as … "a book, usually paperback, that is small enough to carry in one's coat pocket." But this is a very, very special pocket book, with kinda-sorta magical powers. Because you can either buy this particular tome as a pocket book or opt to just download it to your PC. Pretty nifty, dontcha think? And while it is nice to have both options available to you, be forewarned that if you do carry it as a pocket book, tuck it in deep when visiting your in-laws or attending synagogue, because this is the seriously dirty stuff. A pocket book that just might inspire a bit of pocket pool, dontcha know? And we wouldn't want anybody to blush, now would we?
I am serious. If you like your erotica edgy, kinky and uttra-freaky — inhabited by a mishmash of succubus-esque divas, dominatrices and transexuals –then you simply must add this book to your secret stash. And don't lie to me; I know you have one, you naughty boy/girl/boy-girl! From the divinely depraved mind of Porn Person of Prurient Interests, FREEDOM IS SLAVERY features an introduction by none other than myself, as well as pictures of the captivating fetish model, Ms. Elle.
And how do I know all of this? Because I know Porno Person: as a stand-up friend, a dyed-in-the-wool deviant and as a (brilliant) mainstream writer in his other life in which he's enjoyed a modicum of fame.
Dirty stories? From the dirtiest guy on the net? Sexy fetish photos? Of Ms. Elle? A few words of quasi-wisdom from me? All in one book?
What are you waiting for? Get out of here and get reading: CLICK HERE NOW
xo, Angela