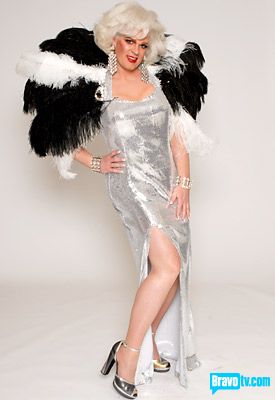 … well, kinda sorta.
This is really just a quick heads up for my Cross Dressing men and their admirers (the guys who'd like to find the special surprise in those panties). But readers of Sweat Shop Sissy and Slip of a Girl and visitor's to Vintage TV Lover's Flicker Collection might also want to take note.
In the newest installment of Bravo TV's enormously popular and award-winning Project Runway (aptly titled GOOD QUEEN FUN), the contestants design outfits for a group of (as this season's Blayne would say) "trans-licious" drag queens. It's just a whole lot of fun watching Miss Understood, Annida Greenkard, Sharon Needles, Hedda Lettuce and the rest of the girls strutting their stuff in their specially designed duds..
It should come as no surprise that RuPaul is a guest judge and the flamboyant Chris March (regular viewers will remember him from last season) is kinda-sorta the master of ceremonies, which just puts the butter cream frosting on the not-such-a-fruit cake. If you're new to the show, pay particular attention to Tim Gunn, who's a fashion guru and seriously nice guy. We could all learn a lot from him. We could even buy his book, TIM GUNN'S GUIDE TO STYLE (hardcover, of course).
The show will be repeating again tomorrow evening and (most likely) throughout the week. So check your local line-up to see if you can catch it
And if you love bitchy women, stick around to catch the premiere of Tabatha's Salon Takeover. Tabatha Coffey is the sleekly coiffed contestant from the first season of Shear Genius who terrorized the lilliputian Tyson — and it was just so much fun to watch. She's bitchy, she's haughty and she takes no prisoners. I am so looking forward to this Goddess kicking ass and taking names with her very own show.
xo, Angela