Today is the first day of the rest of our nation's history.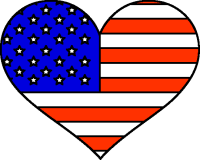 Thanks to Vanilla Savant who sent the above to me in an email this a.m. I can hardly contain my erection of the heart for all that we've become during this election process and all that we are about to embrace for our future. I am overwhelmed. I am elevated. I am transformed and transported.
This blog is as far from political as you can get, being neither the forum nor the vehicle for any kind of partisan debate. I just hope everybody got out to vote for this most important election. Any way you cut it we are making history.
Really, really, really … God Bless America.
xo, Angela