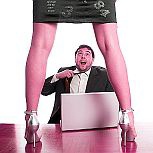 Why are Women superior? The question can be approached from many angles and with different goals in mind, some more subjective than others. One of my primary dilemmas in writing this was how to approach it myself. The two things bearing most were if I did this clinically, having it sound too academic and not quite erotic enough, given that a truly exquisite and dominant Woman asked me to do this (no, She didn't "command" me to for several reasons, not the least of which is She wasn't and isn't my Mistress). On the other hand, write it from a purely erotic vantage and it doesn't bear the ethos of a clinical paper but is quickly written off as someone who's "Pussy-whipped" and unable to support the thesis with anything resembling a rational approach as to why Women truly are superior in anything other than a fetishist's province.
To begin with, physiologically, Women's bodies are far more efficient and are built for reproduction. They're also capable of multiple orgasms within a very short time-frame, allowing for much greater 'accommodation' of partners. Using the most generous of models, a Woman can cause 8 males orgasm by direct contact with some portion of Her Body all at the same time. men, to the best of my accounting, can manage four Women's pleasure by direct contact at once.
The orgasmic source for Women and men can also give some clues to the superiority of Women . B/both require some stimulation in the brain for orgasm, but Women's required mental activity is much more complex and varied than men's and generally speaking a man's orgasm can be coaxed by constant physical stimulae, usually a constant rhythm of stimulus on the penis will eventually cause an orgasm. Women, conversely, generally get even more turned OFF by a constant physical stimulus without any engagement of their mind. Often this is confused because Women will actively look for some quality of the man or men they are with to provide their mind the necessary fantasy and these are as wide-ranging as the personalities of the Women themselves. A man's mental participation in sex is pretty widely varied as well, but even the most intellectual and sensual of men can usually be overridden by a Woman who is both insistent and provides even the slightest attraction that is a distraction to that man, rather like a pebble starting an avalanche.
Finally, a large part of the superiority of Women comes from the ways and means that civilization has developed. Men have typically tamed the environment in order for societies to prosper and thrive. Women have done most of the development of social order (apart from ruler-ship and religion). Male 'dominance' has most often been derived from threat of force. Female Domme-inance has been derived from wit and threat of withholding. Both are effective, but wit and threat are more pervasively effective on the mind, therefore reaching much further than the immediate situation a person might find themselves within.
***
Written for and submitted to me by a most charming devotee. I think he makes a heck of a lot of sense. *wink*
Thanks, Mr. A., for speaking so eloquently and from what I know is the deepest part of your very big heart.
Although, I must say, coming from an English-Lit background, I prefer grammar-specific capitalization regardless of whether female/male or domina/slave. But that's just me; I'm picky that way. Deal with it and love me in spite of my peculiarities and idiosyncrasies. Believe me, it's better for all of us.
xo, Angela