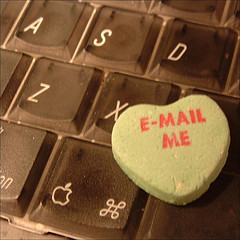 Phone Sex Email: A SLIPPERY BAG OF TRICKS
Well once — when I refused to do Racial Humiliation — I actually got this one: Get off your fucking high hourse [sic], you fucking cunt. Sigh. And you wonder why sometimes I just want to turn off the phones, curl up under a blanket and watch a good old-fashioned movie on Turner Classic Movies. (BTW … you can download some pretty damn cool FREE backgrounds and screen savers — including It's a Bikini World, Great Expectations, and Have Rocket, Will Travel from TCM right HERE.)
Oops! There I go digressing again.
I get a lot of jokes.
Mr. D. — who happens to be rather unhappily married sent me this:
THE F. B. I. WAS IN THE PROCESS OF INTERVIEWING APPLICANTS SEEKING TO BE AGENTS.
After all the background checks, interviews and testing were done, there were 3 finalists; two men and a woman.
For the final test, the FBI agents took one of the men to a large metal door and handed him a gun. They told him, "We must know that you will follow your instructions no matter what the circumstances." Inside the room you will find your wife sitting in a chair. Kill her!!" The man said, "You can't be serious. I could never shoot my wife." The agent said, 'Then you're not the right man for this job. Take your wife and go home."
The second man was given the same instructions. He took the gun and went into the room. All was quiet for about 5 minutes. The man came out with tears in his eyes, "I tried, but I can't kill my wife." The agent said, "You don't have what it takes. Take your wife and go home."
Finally, it was the woman's turn. She was given the same instructions to kill her husband. She took the gun and went into the room. Shots were heard, one after another. They heard screaming, crashing, banging on the walls. After a few minutes, all was quiet.
The door opened slowly and there stood the woman, wiping the sweat from her brow. "This gun is loaded with blanks," she said. "I had to beat him to death with the chair."
MORAL: Women are crazy. Don't mess with them.
Sometimes, after a call, I will get the sweetest Thank You EMail:
Thank you so much for our encounter today. It was a pleasure in every way imaginable. It's been a long time since an erotic and kinky encounter felt so right. I do believe I could've chatted with you for hours (kinky or not).
Or a humorous follow-up:
My mother would be proud…well….. Love, Mr. M.
Maybe something to both tickle and impress:
May I compare thee to a summer rose? I know you make me thorny.
Or an invitation:
I'm going to be in your neck of the woods August 18 and 19. Would you consider getting together? Just for a cup of coffee, of course.
And of course I get zillions of Fantasy Requests and they do run the gamut:
***Will you be my Twisted Psychiatrist and turn me into your Nasty Bimbo Slut? (this included pictures of his feminized self) YES I WILL!
***Mmmm … I want to be your slutty whore. Will you strap-on train me? YES I WILL!
***If I send you pictures of me doing dirty things (dildos, eating my own cum, etc.), will you blackmail me? I will send you my girlfriend's phone number and email address. NO I WONT!
***Will you turn me into your jack off boy? Make me wait, make me beg. Train my cock to serve you. Will you watch me on cam? YES I WILL
***Dear Mistress Angela: I have a fantasy about being totally addicted to a woman who enjoys controlling me and using me. It is very important that she enjoy her power and can make me do anything. May I call you? YES YOU CAN!
And another joke (from a fav sissy boy):
My flight was being served by an obviously gay flight attendant, who seemed to put everyone in a good mood as he served us food and drinks. As the plane prepared to descend, he came swishing down the aisle and told us that "Captain Marvey has asked me to announce that he'll be landing the big scary plane shortly, so lovely people, if you could just put your trays up, that would be super."
On his trip back up the aisle, he noticed this well-dressed and rather Arabic looking woman hadn't moved a muscle.
"Perhaps you didn't hear me over those big brute engines but I asked you to raise your trazy-poo, so the main man can pitty-pat us on the ground."
The woman calmly turned her head and said, "In my country, I am called a Princess and I take orders from no one."
To which (I swear) the flight attendant replied, without missing a beat, "Well, sweet-cheeks, in my country I'm called a Queen, so I outrank you. Tray-up, Bitch."
PQS sends me poetry:
Words That Make My Stomach Plummet
by Mira McEwan

Committee Meeting. Burden of Proof.
The Simple Truth. Trying To Be Nice.
Honestly. I Could Have Died. I Almost Cried.
It's Only a Cold Sore.
It's My Night. Trust Me. Dead Serious.
I Have Everything All Under Control.
I'm Famous For My Honesty.
I'm Simply Beside Myself. We're On The Same Page.
Let's Not Reinvent The Wheel.
For The Time Being. There Is That.
I'm Not Just Saying That.
I Just Couldn't Help Myself. I Mean It.
HDB sends me conservative manifestos while PQS sends me liberal manifestos. On the other hand, Puzzler and backroads send me a little bit of everything when it comes to politics and the world in general.
And then there are those of you who never write or comment here. But I know you're there and I know you're reading me … because you tell me when we talk. And that's enough.
xo, Angela