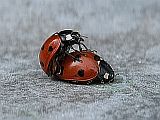 Hey! I didn't say it. The fellow who typed it into Google's search engine said it (see red text below). But I sure do wonder what he was specifically trying to hunt down. I dunno. Is there such a thing as a love bug in the animal kingdom? Was he looking for a hot and steamy twist on bestiality? Something like an arthropodous idee fixe? A fetish for romantic vermin that will crawl all over his cock and suck it at the same time?
I haven't a clue and, quite honestly, I'm not sure I even want to know.
Anyway, as I've noted before, I do occasionally gather the initiative to take a look at my website stats. Most of the time, I could care less. I'm a poet at heart — the frippery of data bores me to absolutely no end. Blah, blah, blah, blah. I've neither the time nor inclination to extricate, investigate, evaluate or differentiate.
I just don't see a need to over-complicate this. After all, everything is working just fine the way it is: You find me, I find you, it's love-at-first-site and we live happily ever after. That is, at least until I kick you to the curb. So … why mess with a good thing?
BUT …
As a RESPONSIBLE business woman I should be paying attention. So once in a blue moon, I take a gander. Which I did. And now I'm done looking for another few months. Or two. Or three. Maybe four or five. What am I going to do with this info? Absolutely nothing. Except let you take a peek, too:
fetish girl with sneakers
phone sex
teased and taunted milf
watch fetish
Mistress Angela faceslapping
phone sex quotes (a blog piece about this soon)

small penis humiliation thumbs (think he was looking for pics)
bdsm slap face
eating her cunt and asshole
phone sex goddess
eats my cunt (good idea, huh girls?)

teasing mistress
wife getting fucked (so many men love this)

phone femdom
femdom
zen fetish (you lookin' at me?)

woman´s fetish with small penis (i don't think so)

fetish sweat in my clothes
snatch
cuckold phone sex (again with the cuckold thing)

goddess, mistress phone
mistress humiliates
getting fucked while people watch
cock leash (can i hear an amen?)

femdom wedding
humiliation "small penis" story
cuckold story
haircut fetish xxx
zen fetish (come to angie, baby)
phone sex
cock sucking love bugs
types of cuckold
phonesex
tease denial (u know i love it)

cuckold
real cuck
erotic hair cut fetish
cum on my pussy (don't even try it)

on your knees boy femdom
cuckold type relationship
zen fetish (he knew exactly what he wanted)

sneaker porn
tease denial
zen fetish (a stalker perhaps?)
ass kissing cuckold
"small penis humiliation"
oh cum all ye faithful
Shocked? Intrigued? Disgusted? All I did was copy and paste. YOU found ME here. I was just blogging away, minding my own business. What a naughty bunch of bad, bad boys you are. Now you're here and just what am I supposed to do with you? Maybe I should force you to pick something from your own list? Or maybe I should have fudged the list and added things I'd decidedly like you to do. Let me think about that and get back to you.
And for the record, I'm not into bestiality. Particularly of the sort involving creepy-crawly arachnids of an sort. So disgusting. I mean I'm the girl who screams when I see an ants.
Then again, if your into be squashed like a bug …. call me! *wink*
xo, Angela