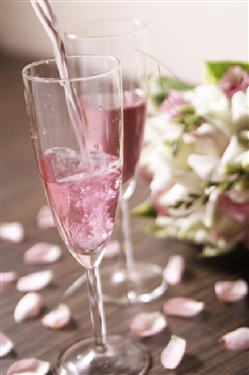 As you probably noticed, there wasn't a lot of Christmas nor New Year's Hoopla here at Zen this year. Well, things just didn't pan out quite as I had planned. Nonetheless, I will remember the past holiday as a bittersweet one, not without its blessings, and certainly one of learning lessons.
Someone close to me experienced an incredible loss and, because I care about this person, my heart ached (and is still aching) for her. Except for Christmas Day, spent with my mother and family, I was about the business of giving what little help and comfort I could to my friend. Which is exactly and rightly what I should have been doing. But that is more about my private life and — if you don't mind — we'll just leave it there.
All I really want you to know is that I truly did learn a lot — mostly lessons of love and about doing the right thing. Which means I've changed in very grown-up ways and am a much better, much fuller human being moving into the New Year. And I have a heart full of gratitude. It's a lovely way to fill a heart, don't you think?
So … because December's end and January's beginning were so topsy-turvy, I didn't work very much, got backed up on email and just generally put this part of my world kinda-sorta on hold. I was around — here and there – briefly and fleetingly. It was a "catch-me-if-you-can" situation. Some of you did, indeed, catch me. How does that work when I'm up to my eyes in personal turmoil and you're calling for a nasty round of Fetish Phone Sex?
Well, if you were an established client with whom I've built a rapport, I probably gave you a brief peek into what was going on this side of the Phone Sex Curtain. You deserved that honesty from me.
Then again, if you were a first time caller, I was my professional self doing what needed to be done in my very particular way … focused on you and your needs, astute attention to detail, aiming for a slam-bang finish. You didn't need to know that my heart was bleeding. And so … I kept that from you. As I should have.
Back in the saddle this past week, I'm pretty sure I succeeded, as quite a few of you new fellas have called me back, some even taking the time to leave awesome feedback and recommend me to others. I am truly grateful and did follow up with Thank You emails.
But there's always the exception, isn't there? Because, during that time, I did have a new caller leave me a one star review (ouch) saying: "Not my cup of tea at all! I have to wonder if these positive feedbacks are from friends or something?" Maybe I was seriously off that day, because I'm certainly not perfect — not by any stretch of anyone's imagination. Or maybe I had one of my visceral, gut reactions (rare, but they do happen) to the guy's seriously bad vibes and was just going through the motions.
I really don't know, because — according to my records — the gentleman spent all of two minutes with me. If you do ever find your way to my blog, Mr. X — this is assuming, of course, that you ever actually read — I am curious: Do you think a sexual encounter takes two minutes? Is that how you fuck? I have, of course, blocked your from further contact. Good riddance to bad rubbish.
New Year's Eve I actually worked, which is rare, because I don't do too many holidays. But it had been a good experience last year and I absolutely abhor going out into the mayhem … so I figured, why not. Plus I'd finally stopped by my P.O. Box to pick up what I believed would be a few Christmas presents the previous day. What were you guys thinking? It took me three trips to get all those packages into my house!
So I opened a bottle of bubbly and sat in front of my fireplace unwrapping presents and taking calls. Oh, and getting a little bit tipsy. It was divine and I am forever grateful. And if you hear me saying I bought a new book or new books (which is usually the case … who can resist when your at the center of pile upon pile of tomes?) this entire year? Put me over your lap, pull down my panties and spank my little FemDom tush. You gifted me so many awesome books that I have plenty to last, maybe even until 2011. Seriously.
Anyway … here we are twelve days into the new year. I worked my ass of this pass week, taking calls from (almost) dusk to (almost) dawn. Regular life is back in its place and I'm glad it is. Of course we do have Valentine's Day looming.
And in between here and there? I've had more than a few delightfully wicked calls, which we will keep a secret between you and me. And — when I finally settled down to catch up email — found your always-attentive and appreciative missives:
A Christmas Quickie from faithful and dependable Mr. D (he keeps me in headsets for my phone) :
Merry Christmas, precious Angela! Hope you are happy and … maybe shopping … maybe for shoes…. maybe with someone else's money! Know I am thinking about you and wish you a joyful Holiday Season. Lotsa Luv!
A Happy New Year from Mr. B (who calls even when on a budget):
I hope you are well and having a wonderful holiday season.
I want you to know how much I appreciate you. You are a real woman who does not hide behind your job. While you have to be guarded in your business you have been so nice to me and it has meant a WHOLE LOT! Thank You!
You are so real and so honest it is that "human touch" which makes you so much more special. Whether you are a seductress, a "hottie," an author, a thinker, one of the socially conscious, a promoter of not only yourself, but even of your competition, a partial/almost fiancee, or a positive force in JewBoy's life, (my life and the lives of so many others) … you are, above all else, a decent woman and, for that, I am filled with affection and gratitude.
You are special: and I wish You an appropriately SPECIAL 2010.
Much love and best regards
And — wouldn't you know it — a review of AVATAR from PQS (Zen's very own and precious Pervert Savant):
There are lots of nice special effects but the plot of the thing is really simple. The overall effect is sort of like seeing "Dances With Wolves" in a video game format. Worth seeing for the mechanics chanics of it all (You get to wear wowie 3-D glasses!) But overall, the whole thing left me wondering why they couldn't have put more of the $350 Million it cost to make and promote into something as basic as screenwriting.
The dialog is tired, the plot is extremely predictable, and lots of it seemed purloined from other blockbuster sci-fi pics of the recent past. Sigourney Weaver even gets pulled out of Alien to do a very lame role as a "scientist/anthropologist". They also borrowed freely from her earlier "man in mechanical moving machine fights alien" to do an "alien fights man in mechanical moving machine" scene. The noble aliens of Avatar take on corporate driven evil Earthlings with…what else…bows and arrows! Jeez…the more I write about this, the worse it seems.
So, all in all, yeah … I think it's going to be a very good year and an absolutely wonderful Valentine's Day.
xo, Angela
♦~~~~~~♦
Get Your Phone Sex Fix with these Hot Girls:
Pretty in Pink is Your Barely Legal Bad Girl CLICK HERE
Strap-On Training with Mistress Eden CLICK HERE
Let your fantasies roam with Precious Buffy CLICK HERE