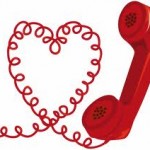 It's no secret that I adore my clients.  Most of you have stood fast and true, and have always remained (for some reason) awestruck at the mayhem and mischief I create in our virtual phone sex fantasies.  Hey, that's what I'm here for and, I'm very aware that you call me when you could have just as easily called someone else.   And you do call me… again and again and again.
Certainly, here and there, you stray.   But, hey!  If you can't cheat on your Phone Sex Goddess (*rolling eyes*), what would this world be coming to?  It is a man's nature, after all, to sniff around … a genetic flaw of sorts.  You just can't help yourselves.  The salient fact is that most of you (not all of you — I can only be so awesome, after all *wink*) scurry right back, seeking both absolution and asylum within the folds of my skirt.
Still … wherever thou dost ramble, with whomsoever thou dost rollick, whatever mischief with which you find yourself otherwise occupied, you still keep me posted.  A quick call, an email, a nice 5 star review or even a few words here at this blog.  Do NOT EVER think I don't notice, because I certainly do.  Even when I'm lost in Phone Sex Diva self-absorption (blame it on the Leo in me) I always feel indulged by you:
PQS sends me his favorite "Best of Bad Writing" from the Bulwer-Lytton website:
"As the young officer studied the oak door, he was reminded of his girlfriend — for she was also slightly unhinged, occasionally sticky, and responded well to being stripped and given a light oiling."
(to which he added:  hahahahahahaha)
And did you happen to catch is ode to me/homage to Poe here at Zen on Halloween?  He's so fuckin' smart:
T'was on Halloween it seeming, then did I, perchance, while dreaming
Come to view on my screen gleaming, tangled, tortured lines of woe!
As I read them, my mind streaming, horrors from a night's bad dreaming
Assaulted me, like bat wings teeming! Anguished lines from E. A. Poe
"It must be Angie," thought I musing, "posting rhymes from E. A. Poe!"
"Insight from a talking crow!"
But then thought I, my spirit keening, perhaps there is a hidden meaning,
A runic message intervening, buried midst this tale of woe.
But finding none, I vaguely wondered, could it be poor Poe had blundered?
What's the chance, one in a hundred, that man could banter with a crow?
Trading anecdotes and wisdom, wisdom with a coal-black crow?
T'is unlikely, that I know.
HDB, with his signature rat-a-tat delivery,  always follows up our kinky conversations with a generous gratuity and "Thank You" email:
"Catatonic and it's all your fault."
"Toes curled on that one."
"Can't move. Happy boy."
… and always 5 star reviews that go something like this:
***Pop. Sizzle. Pow. Angela rocks the stratosphere and every man in it.
… and sometimes a funny quote two:
"I haven't left my house in days.
I watch the news channels incessantly.
All the news stories are about the election;
All the commercials are for Viagra and Cialis.
Election  –  erection  –  election  –  erection.
Either way we're getting fucked! ~ Bette Midler."
The Prof? He's always short & sweet & to the point and ever so charming:
Oh lovely wonderful you.  Off to buy paint, grocery shop, etc. but ONLY thinking of you.
and consistently, creatively smitten:
Your personality is …  eclectic, electric, esoteric, erudite, epiphonous … erotic, enigmatic, elegant … so many e's, so little time … and that's just one letter of our elegant English.  love from The Prof, whose middle name starts with e.
Then there's my cherished Little N:
Dear Angela,
I'm not writing this note to tell you that I adore you (you know that already) that I admire the imagination and dedication you put into what you do (you know that already) or that I consider the fantasies you weave for me so skillfully to be like healing balm on my deepest desires and aches. No, telling you that might be tainted with horny-ness and that joyous tingle that spreads through my body whenever I start talking with you.
I'm writing this note to tell you that I occasionally just plain and simple need to talk with you just about anything, and to hear your voice and laughter and share the details of my travails as you do with yours. I'm writing to tell you that I simply love talking with you, because you have a gift for making me feel human and capable and resilient.
Somehow, after a friendly chat with you I feel that those things that bothered me are not insurmountable after all. And when that's coming from the very talented lady who knows my deepest and most convoluted fantasies, the patient lady who has experienced my soul more emotionally naked than any other woman on earth, life does feel better and less difficult.
Please rest assured – this is not a fantasy-sex-fueled infatuation, this is pure gratitude. Gratitude with a capital G. To be able to speak with a grown-up, in depth, with nothing held back, is not only a rare pleasure, but something that as adults, we should have the luck to experience with at least one person on this earth. And if we do experience this great pleasure, we need to take a deep breath, let the blessed oxygen molecules have the time to enter every dusty brain cell, exhale slowly and say: thank you. Thank you for the pleasure of knowing a tiny bit of you, thank you for our time on the phone, this time for just a casual chat, shooting the breeze, and thank you for your time and your ear.
Oh, and lest I forget, let me say this, and how do I phrase this delicately?- When we get down and dirty and nasty and you deftly interpret and delicately flesh out one of my fantasies and run it through me, my cock overflows and shoots big gobs of thick come in heart-stopping intensity. You make me jerk off and come like no one else. And you heal me. You heal me. Until I come back for my sweet medicine again, to my fantasies where all aches are healed and all cravings are satiated, to that place where you reign supreme, like a wise Empress. Because there is no one quite as good and unique and wickedly creative and artful and understanding as you.
You are awesome, babe. Just sayin'.
Yours, Little N.
A smattering of phone sex reviews (because, believe it baby, I DELIVER a 5 STAR Phone Sex Experience:
Thank You so much, Mistress Angela! I do adore You .. and I do belong to You!
Absolutely amazing. Really takes the time to dig into what makes your fantasy great and goes crazy with it.
Angela, you are amazing. You took my few whispered sentences, and built an amazing fantasy around it. You are understanding, patient, and have an amazing memory when it comes to people's shifting likes and dislikes. Thank you!
One you go Angela, everyone else is jut plain vanilla.
I gave Angela the set up, and she picked everything up quickly to give me a pitch-perfect rendition of my own little deviant fantasy. Great call!!
Its a bUmPy ride 🙂
as always, mind and load blowing – truly a thinking man's siren, ASL is not satisfied with you wrecking your vessel on the stony shore, you'll drive your boat full steam ahead and enjoy every bit of the tumultuous landing
So, yeah, I'm paying attention and lovin' you guys to pieces.
xo, Angela
*** FYI: I have been trying to be available for calls as much as possible, but having picked up three tutoring gigs (parents panicking as finals loom) while redesigning my NiteFlirt pages (hoping to have everything done by the first of December, but that remains to be seen) and preparing to revamp this blog and my other Phone Sex Websites — well, I'm up to my nose in busy, busy busy.  Of course, I'm not complaining as hyper-activity does keep my Nipples hard.   Obviously all this activity is interfering with my blogging, but I will strive to be more consistent.  Be patient with me and watch for lotsa positive and naughty changes early into the New Year.  xoxoxo