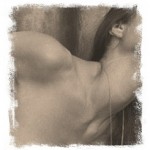 I know what you've been thinking:  The bitch has flown the coup again.  Well, I didn't, smarty panties.  I just have lots of irons in lots of fires and have had tutoring gigs up the va-jay-jay.  Evidently I'm good at this quasi-teaching thing, and even though I'm not one of those 24/7 PSOs, the tutoring  still gives me a chance to do something for money that doesn't involve TALKING DIRTY.   I mean, as I've often told you, I really am just the girl next door, with lots of other stuff happening in my very regular life.
Although, I will say, college boys do like to flirt and if I gave them even half a chance … well, you know.  And if I told any one of them that I was a Phone Sex Operator?   He'd be showing up for "tutoring" at 2 am on a Saturday night/morning.
Oh, and did I mention I just got over a miserable bout of pneumonia?  And now my doctor thinks (THINKS) I may have some chronic respiratory problem.  Let's just hope she's full of you know what.  She was opining, after all, over the phone.  I'm supposed to give it ("it" being my scratchy throat & lingering aftereffects) some time (about a month) and "let's see how it goes and then we'll take it from there."  Let's hope it's true that time does, indeed, heal all woulds.
I am taking calls as much as I can, but quite honestly my throat is still recovering, so that a stretch of exploiting wimpy wankers, pantifying (just added that to my dictionary 'cuz it should be a word) sissy bois (another add), teasing chronic strokers (OMG! strokers is another add … this dictionary is extremely puritan),  beguiling and discomfiting cuckolds and really just doin' what comes naturally (for me ;-D), causes my throat to rebel and I have to take time off to be absolutely quiet and medicate.  So that is why as of late (to answer your question Mr. Tom) you find me available, then not available, and then available again, with no discernible pattern.  I really have no other choice right now.
In between all of this, I have been working on graphics for my NiteFlirt listings, which I do believe have turned out ratherish fabulous.  Now if I can just get someone to help me figure out the HTML to get them where they need to be.  I do have an absolute sweetie who usually helps me with this stuff, but he kinda-sorta has been tied up.  Not by me.
Since I was so sick for so long, my usually pristine environment just isn't up to my standards, so I am having my housekeeper do  a deep cleaning tomorrow and definitely won't be available for calls.  Wednesday is iffy,  as I have a dental appointment (whitening) which I'm trying to reschedule, but may not be able to.  From Thursday into and through the weekend … the coast clear.  Except for the  detritus left behind from the seriously fucked up fantasy phone sex in which I plan to immerse myself and you.  *wink*
Oh … some good news of sorts.  Once I get my pages fixed and pretty at NiteFlirt (should be at least my Monday, and hopefully sooner), I will be running a 5 FREE MINUTES Spring Phone Sex Special both for new callers and my loyal pets.  And I also plan to run some daily specials here and there with discounts.  So make sure to stay tuned.
xo, Angela