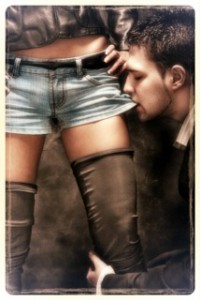 "You want me to what?"
I was astonished.
"I want you to lock your cock in your cage and FedEx the keys to me. i want you to buy a round trip ticket to Hartford. I want you to photograph your locked cock with today's or tomorrow's newspaper in the background. I want you to fly here. I will then meet you at the airport tomorrow."
"You don't trust me to behave myself?"
"No darling, it isn't that at all. If I didn't trust you I wouldn't be meeting you. I just know how excited you'll be to see me for the first time in the flesh, and I want to see if you can break the cage with your desire." She laughed.
I agreed to do it, and she was, as always, right on the money. My excitement was palpable, or at least it would have been if I hadn't been caged in a hard-on preventing contraption she had bought for me just a month previously. So I took my locked package to the FedEx store and mailed the keys to her PO box in Connecticut. I sent the iPhoto of my predicament via email, and drove to the airport. Fear of the TSA proved to be a remedy for the extreme discomfort of the situation, but once I was in the terminal proper my excitement returned in full force. I won't tell you how long the plane ride was or mention the crying baby because I hardly noticed. All I could think about was meeting her for the first time, and the increasing pressure between my legs.
The pressure behind my eyes during the descent was minor compared to that restrained by the cage not so artfully concealed by my jeans. I tried to check unobtrusively for stains that I was certain were there, but I couldn't see any without making a scene on the plane. I waited impatiently for the other passengers to deplane and began my journey from seat 23A to what I hoped would be Nirvana. Now as I stumbled down the jet-way I could see her. She was dressed to thrill, and thrilled I was. I could barely believe my eyes as I took her in, long brown hair, bomber jacket, 'Daisy Duke' short jeans, thigh-high boots, all framed a stunning lithe body could kill a horny seventeen year-old with lust. She coolly eyed me with her light brown eyes as I approached.
"Well, you must be Joel." She glanced me up and down with what HR would call 'elevator eyes'. I felt like a piece of meat for a quick second, then she stepped into me and kissed me full on the lips with a loud smack. "You'll do, sweetheart. Have a comfortable flight?" The lift of her brows and quirk of her smile told me she new the negative answer already. I was throbbing inside my silicone sheath. In a cruel physical satire of intercourse I could feel my shaft sliding up and down inside the cage, the head tapping the cap of the sheath in time to my heart's beating.
We quickly found our way to her car and she buckled me in the passenger's seat with a quick kiss. She then surprised me by blindfolding me. I turned beat red under the mask and could hear her laughter magnified by the loss of sense. I was quickly dizzy and confused about our directions.
The trip didn't seem to take long. Angela talked about everything from current events to history to fashion until I heard the garage doors going up and then down. The blindfold came off and I discovered we were in her house.
"Strip" she told me, and I did. I was soon standing before her wearing nothing but my silicone cock ring, sheath, and brass lock.
It was then that I noticed her necklace. It was a golden chain upon which hung a small key. The key to my release. She was fingering the key thoughtfully and my hopes were rising in way that my trapped manhood could only envy.
She dropped the key against her chest and it fell between her breasts.
"You want to stare at my cleavage, boy? I'll give you something to stare at."
With that she produced a leash fit for a small dog which she quickly attached to the hoop of my padlock.
Looking over her shoulder as she turned, she quipped "'Follow', I wont being saying 'come' for a while, yet." And she gave her leash and my cock a quick jerk. Naturally I followed her inside leaving my dignity and clothes behind.
I was led to a spacious bedroom and made to lie down on a plush bed. My ankles and wrists were soon attached to the foot and head and head of the bed. I wasn't stretched too far, but it wasn't restful.
Angela brought a dining room chair over to the bed and set it down just out of reach of my right hand.  She sat down in the chair and began to smile an ever broader smile.
I was confused.  I was scared.  Mostly I was excited.
She left the chair and the bedroom in whirl of motion without a word.  I wondered what was going on, but not for long, for she soon returned– naked save for the chain around her neck and the key dangling between her perfectly formed breasts.  "Watch" was all she said as she reseated herself in the chair.
With that she began to play with her pussy.
I can't describe what she did because I was soon in a frenzy.  I was trapped and caged and the most exciting, gorgeous, sexy creature imaginable was just out of reach and she was pleasuring herself to orgasm after orgasm.  I don't know how long it lasted, but it seemed like hours.  I moaned, I begged, I cried, I pleaded, I begged again.
Finally she seemed to notice me again. She slowly inserted her fingers into her pussy one more time and removed them.  She looked at the now slick fingers with a critical eye and smiled a wicked smile.  She leaned out over the bed and wiped her fingers over my upper lip and nose.
"Good night".
_______________________________________
Written by my beloved Long Distance Chastity Slave, who knows how to make Miss Angela very happy.
He calls me often and obediently … with much reverence and appreciation (right here).
He is cherished.