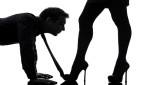 Dear Mistress Angela,
Thank you for our call tonight.
I can't explain my feelings around you. I do trust you more than anyone I have ever known. I trust you to want the best for me, to protect me, and yet… I fear. I fear where you can take me, I fear how depraved and dirty you make me feel, I fear how excited this makes me.
And yet I want it all. I want you to control me, my everything. I want to suffer for you and I want to rejoice for you. I want to be afraid. I want to know the fear. I want to put myself to your absolute control, and mercy. I want to know the joy that only you can open for me.
I want to lick my tears from your feet.
Tears of pain and fear.
Tears of joy and wonder.
Tears that I wept on you, for you.
I want to taste your flesh seasoned with my salt.
Please Goddess, I want to orgasm. I want to come with your voice in my ears and your name on my lips. I want beyond all words, beyond all grammar. I want so that all I know is want. I want so desperately that it is not the orgasm I desire, but the communion with you that allows it.
Love,
Your Boy
_______________________________
Mmmm. Emails like this.