While I'll never understand why a guy playing with his pecker whilst talking with me gets to then leave a review of my er, um, talent, he does.  Yes, you heard it, ladies and gents, an actual Phone Sex Review.  But then there are those times I'm just pleased as can be: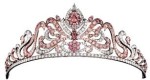 "All hail to Miss Angela, the supreme Princess of NiteFlirt and superior Goddess to all men. We worship at her feet and bow to her every whim, for we are mere men. Miss Angela wields her power with grace, sophistication, sensuality and a knowing wit. We are her toys — to be controlled and used. We exist for Miss Angela's entertainment. Aren't we lucky?" ~Peter Roget
And all I can say to Mr. Roget is:  Kiss my ass, you filthy guttersnipe.
(because he likes it just that way)
xo, Angela