So have you gotten up the nerve to call Goddesses Erika and Vickie (aka Mean Girls)? Why not? Little beta sissy-men need someone to boss them around and them in their place. And little beta sissy-men just love Erika and Vickie. You know you're dying to have them gang up on you and tear you a new one.
So get your ass over to their NiteFlirt page and then …
Do it. Do it now. Call them, you little slut:
1-800-863-5478 ext: 10771493
In the meantime, here's a few of their many FIVE STAR REVIEWS … to get your little weenie excited: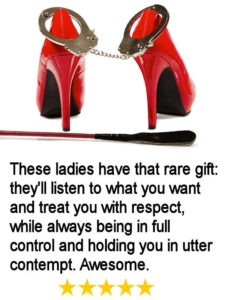 Always love talking to these two. They give me just what I'm looking for, and have fun doing it. They're clever, sweet, and vicious. What more could a fella want?
No need to call anyone else on NF. Great voices, fun, wicked laughs and imagination. They let u decide how raunchy (or safe you want the call to be). They are addictive, though…
Like a tsunami of humiliation that just keeps coming. The two best humiliatrixes on NF hands down. If you want to hear two hot girls laugh their asses off at you, call now!
The MEAN GIRLS ROCK ! The Beautiful Sexy Goddess Erika & The Beautiful Sexy Goddess Vicki have brought it to an art!
Another rather scintillating talk with two extraordinary women – a pleasure.
Oh how my head spins when they gang up on me. I was turned into such a little sissy. They especially took joy in giving me a head full of curls with pretty bows. Their laughter still echoes in my mind.
It's an incredible skill they have to extract and exploit what they want from you.
Sexy. Clever. And FUN! Yes, they're mean. Of course they're mean. That's why you're here. But I had a great time talking to these ladies. Just fantastic.
~~~~~~