So. You might be wondering why I haven't mentioned my birthday since that hot phone sex sale I had mid-August. Some days, I've been wondering, myself. I've been multi-tasking, working the phones, partying on Monday nights, cocktail-ing with friends, Twittering, and binge-watching Game of Thrones from the very first season.  I've been busy.
But that's not the only reason I haven't brought my birthday bash up. Look at this: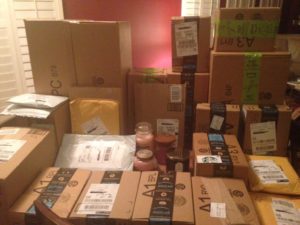 How is a girl ever worthy of so much generosity? And this isn't even everything. A second wave came in after I took this picture, which I'm not going to photograph because it's just not easy to do. One big box is a chair, another is a lamp. I know this because I know who sent those and when they were to be delivered.
Anyway, I AM OPENING PRESENTS even as I type this. Already, there's a few with no indication of where they came from and one that just has a first name (but I know a few with this first name). Still, I'm trying to keep track so I can personally thank everybody.
Sunday is the day I will try to show pics of the actual presents, out-of-the-box nekkid in all their glory, so to speak. I'd do it tomorrow, but my housekeeper will be here and I'm going to be monitoring and working her fingers to the bone.
You honor me, you please me, you make me so very happy.
xo, Angela
xxxxxxxx—-xxxxxxxx—-xxxxxxxx
Okay … I'm way behind on getting pics to you. It's a don't ask, don't tell situation. But I will get them to you soon. Promise.