Monday, August 7th, 2017
or The Only Way to Serve a Woman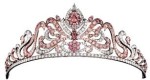 My mind begs you to ask it something so it can obey. Do you want me to follow you for the rest of your days? I will do that. Do you want me to crawl? I will crawl.
I will be quiet for you or sing for you, or if you are hungry, let me bring you food, or if you have thirst and nothing will quench it but Arabian wine, I will go to Araby, even though it is across the world, and bring a bottle back for your lunch.
Anything there is that I can do for you, I will do for you; anything there is that I cannot do, I will learn to do.
— William Goldman, The Princess Bride