Monday, March 6th, 2006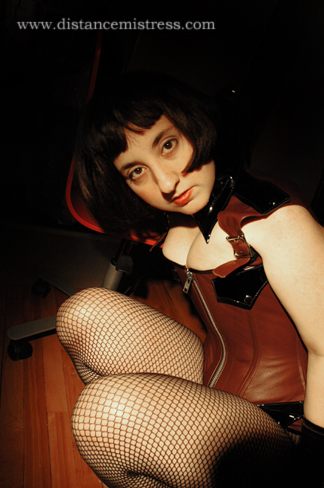 Although I have the bad habit of mispelling (Myra instead of Mira), Domina Stern's first name, I am a big fan of hers. She is a wicked-smart Fetish Dominatrix, specializing in addressing the deviant desires of that specialized category of slaves, the sub-cognoscenti. She is articulate, rough & tough and takes way too much pleasure in destroying the male psyche. You have to admire that in a girl.
As I am in the process of a fairly big update at Literate Smut, I approached Domina Stern regarding featuring her on one of the pages. Much to my surprise and delight, she graciously has agreed. And now I am just so darn excited, I think I'm gonna pee myself. Well, maybe not that out of control, but pretty close. Can you blame me? From Domina Stern's sexy lips & delicious brain:
What She Wants
I don't want a bad boy to treat me wrong and assert his individuality all over my carpet. I want a tractable, studious wimp. I want a shiny 250 pound robot and I want the remote. I want my own personal Jesus to nail up over my bed. I want a disciple to wash my feet. I want an unearthly girly man to be my lesbian twin. I want a sugar-daddy to wipe my feet on, snuggle up to and manipulate like ABC gum. I want a supplicant. I want a guard dog. I want a pale and wan intellectual, begging me to make him do research and write paeans to my beauty. I want to launch 10,000 ships…with my mind. I want to break 10,000 men…with my voice.
I want a corporation. I want a golden parachute. I want guilty, furtive, condemned and conflicted men of influence to come to me, whip carried in mouth.
I don't want Marlon Brando in his heyday. I don't want Clark Gable. I want an army. I want 65 clones of Vin Diesel down on bended knee in the hot sands of the thunder-fucking dome all pointed in the same direction, all waiting for my command, all readied at my behest.
I want a six foot teddy bear with a massive erection, that I can just climb on and suck my thumb. I want to bury my face in his soft pink fur, and never ever worry a bit.
I want a real man who isn't afraid to cry. I want a hopelessly horny, emasculated little pissant who isn't afraid to beg. I want a man afraid of his masculinity. I want a man bound to his masculinity. I want a man who reviles his masculinity. I want a man who doesn't know which of the three he is.
I want to hurt, humble, amuse myself, take no prisoners, leave no survivors, and I want it now. I want to want. I want to give myself a framed license that states "This document entitles Mira Stern to practice whatever the hell she pleases."
I want to fuck you. No, I said that I wanted to fuck you. Get humble and get passive, bitch.
And what, what entitles me to such wonders? Why would I, just lil me, dare to dream and dare to demand? No credentials. No special reason. A decision to deserve. Starting now. A conscious choice, to reapply my lipstick, quit sobbing in my beer and be a grownup. Why most women never reach this conclusion is beyond my comprehension. Why most women never decide to deserve is the thing I will never understand.
Keep your bad boy, till he becomes an asshole and you have to kick him out.
Cry, buy beer, and repeat.
I'll keep the good ones, the ones who bore you.
I will never get bored while having my way.
I don't know about you, but I think this particular essay has to be some of the best FemDom writing I've seen.
Want more? Can't get enuff? Still looking? Are you still here?
xo, Angela