Monday, May 26th, 2008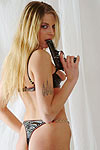 I'm terribly impressed with the quality of women who've recently thrown their feisty lil' hats into the phone sex arena. Makes a gal proud, dontcha know? But today we are going to focus on just one of these luscious and enticing Femme Fatales — the one, the only, the unique and ubiquitous — Darling Nikki Nines, a gun-toting Fem Dom Phone Sex Goddess, who is making waves, breaking hearts and causing grown men to weep … or at least grovel and beg and plead. And we just can't ever have to much of that. Can we now, boys?
Ms. Nikki is the fully-loaded package: edgy, thoughtful (read her brilliant meditation on Goth, Gothic architecture and BDSM in which she observes, "Gothic isn't all dark pessimism; like the architecture, the true philosophy of 'Gothic' reaches for the heavens." — oh, how I already love this woman), and the personification of a Femme Fatale. Gracie Passette, duly impressed by her blog (as we all are, it seems) recently interviewed the mysteriously exotic Nikki, an interview well worth reading. Because this lady is the real deal, with incredible insight and a history to back her up.
One observation Nikki makes in the interview:
Well, D/s relationships aren't that different from any vanilla relationship. There are trust issues. For example, upping the ante on humiliation and renting your lover out to others is a trust risk. And a sub who doesn't like corporal punishment isn't going to be any happier going from words to spanking — and then to canings. But lots of folks think BDSM bed death can only be cured like that. But you can't up the ante at the risk of your personal connection & relationship.
And then there's the matter of sheer exhaustion on the part of the Dominant. I'm of the opinion that if there's any abuse in BDSM, it's perpetrated by the subs. Many submissives are so "me me me" that it's exhausting to try to keep up with their demands. Some call this "topping from the bottom," but it's more than that… It's not just about the sex, but about the relationship, the love.
You know what — and lots of BDSM folks who live in the mythology & fantasy of power play will get pissed at me here — but even BDSM folks like good old fashioned, tender, affectionate sex now and then. Even plain old functional missionary sex after the nightly news too. Having to create scenes can be tiresome, and when those scenes are continually based on the sub's needs only? Loss of sexual interest is the least of your problems; now you've got resentment & frustration. And if the sub keeps whining? Yeesh.
See what I mean? Nikki Nines just might be my new crush.
Hmmm … Maybe we could gang up on some of our bad boys. Yea, I like that idea. I like it a lot.
Dare to dance with the devil? Gather your courage, wipe your sweaty palms, assume the position and call Nikki HERE!
xo, Angela