Tuesday, May 18th, 2010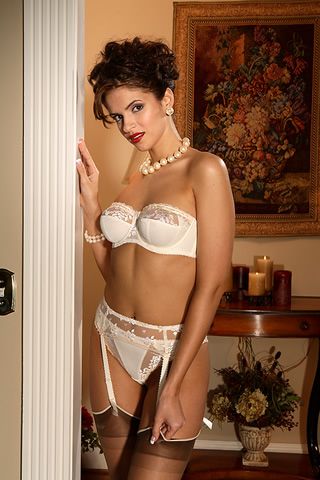 Dearest Miss Angela:
I saw you online today in the early afternoon hours and by the time I grabbed my credit card and other necessary accoutrements, you were busy and then after an hour or some, away.
I kept checking the whole afternoon and into the later hours to no avail. Craving a connection with you (however fleeting — I was desperate for you, beloved Mistress) I started reading your entries and stories and clicking on the links on your pages, and I ended up in Secrets in Lace
How did I — pervert, pornography lover, pleasure addict — not know of this site? I couldn't help myself, and began to masturbate so furiously and insanely that I came all over my pants and onto the floor. Even this did not sate my desire for you, but still you were not availabe. And so I ripped off my pants. And even being on the wrong side of 40, I immediately started masturbating again, groaning with absolutely no control over my senses. I came again, raw and wet and sticky, panting, covered in sweat, my arm cramped, my cock shriveled up, blue and pink happy. And the first thing I thought was: I wish I could speak with Angela; I wish I could go again.
Secrets in Lace is the most amazing site ever, and I would never have found it if not for you. I think I'm going to buy their stuff just so that I can touch it. For a lingerie and vintage fetishist like me, this is where and when every nerve ending in my body and every sense is enveloped in a feeling of completeness, of perfection, of pure joy. All senses overwhelmed, dazzled by the shine of pantyhose, the tight and soft texture of garter belts, the sound of my fingers sliding on a camisole, the taste of a nipple getting harder and darker behind a demi-cup bra, the smell of a woman's flower getting wetter and opening itself for me under an open-bottom girdle. Even now, thinking about these things, I find myself once again aroused.
I am begging you to find time for me tomorrow because I do need you so very much. The reason? I want to take one of the fantasies you've been gently urging me to explore a step further. I don't know where it will take me, and I don't know if I have the courage to go there. Only with your guidance and reassurance do I dare breach that door. Strange – every woman I've ever had sex with has told me at one time or another that I'm the most uninhibited guy they ever met. Would they appreciate the irony of my needing you to force my boundaries?
I've often told you that even I am amazed that I've shared so much with you. I've expressed desires and hungers with you that I've never shared with with any woman, be she someone I have a real-time sexual relationship with or a Phone Sex Operator/Fantasy Girl. The truth is that any other phone-fantasy girl pales and wilts in comparison to you. Yet I have been frozen for weeks in this place, facing the door I dare not open.
But here I am and I understand that I will have to make a major leap of faith in myself, and go forward just trusting you. I want to open that door, and see what that room is like. There is absolutely no one whose instincts I trust as much as I trust yours. Although my heart is palpitating with fear, I know that with both your decisive skill and superior intellect I will be in the best of hands. And so I am reaching out to you, waiting for you to take my hand. Waiting for you to let loose your transcendent imagination and walk me into that room. That room that holds both my desires and fears. Desires you've patiently nurtured until now they loom across my sexual psyche and can no longer be ignored.
Desires you've created in a room you've created for this man you've created. And I adore you for it.
Telling you that you are the finest and the best is just proof of the limitations of language. There aren't words for you. Perfect? Not enough. Deliciously and wickedly delightful? Not even close. A spinning Dervish of sexual imagination and willingness to explore? Close, but still not quite there.
You are YOU. There is no other.
Thank you, Mr. N