Wednesday, September 9th, 2009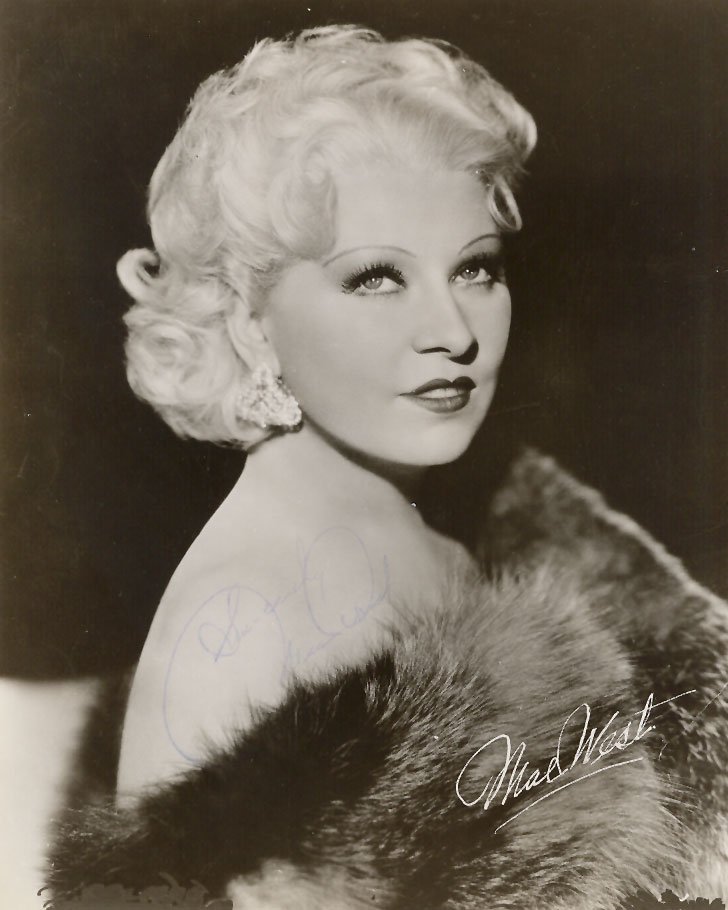 Oh the things she said! And in a time of extreme sexual repression, she was able — for the most part — to get away with it.
Admittedly, I've never seen a Mae West movie. That said, who — regardless of age or inclination or lack of cinema savvy — hasn't heard her almost rococo delivery of the line, "Why don't you come up and see me sometime?" Which, by the way, is from the movie, She Done Him Wrong, also starring Cary Grant. Another memorable line from the same movie: "When I'm good I'm very good but when I'm bad I'm better."
Flamboyant and (some would say) raunchy, Ms. West was ahead of her time. Throughout her career she fought sexism, elitism, repression and censorship. Despite all of that — including an arrest on a charge of "corrupting the morals of youth" and rigid censoring under the infamous Hays Code — Mae West was an unstoppable force and perhaps even the singular Bombshell Harbinger of the sexual freedoms we enjoy today.
Scrappy and sharp-witted, she was not deterred by her detractors. Instead, she became the absolute Queen of the Double Entendre. She, herself, noted that "If I asked for a cup of coffee, someone would search for the double meaning." Thus — ingeniously and creatively — she sparred and adumbrated and demurred and bantered her way into cinematic history and our social conscience. World War II soldiers called their life jackets Mae Wests, Warren Buffet quotes Ms. West (Too much of a good thing can be wonderful.) when giving investment advice; Salvador Dali memorialized her lips in his iconic Mae West Sofa.
Mae West Quotes
About Men:
It's not the men in my life that count, it's the life in my men.

Ten men waiting for me at the door? Send one of them home, I'm tired.

Personally, I like two types of men – domestic and foreign.

Give a man a free hand and he'll run it all over you.

A man in the house is worth two in the street.

Save a boyfriend for a rainy day – and another, in case it doesn't rain.

I only have yes men around me. Who needs no men?

Don't marry a man to reform him – that's what reform schools are for.

He's the kind of man a woman would have to marry to get rid of.
About Women:
A dame that knows the ropes isn't likely to get tied up.

Good girls go to heaven. Bad girls go everywhere.
When women go wrong, men go right after them
There are no good girls gone wrong – just bad girls found out.
S

he's the kind of girl who climbed the ladder of success wrong by wrong.

Cultivate your curves – they may be dangerous but they won't be avoided.

Say what you want about long dresses, but they cover a multitude of shins.

A woman in love can't be reasonable – or she probably wouldn't be in love.
About Love & Sex:
Opportunity knocks for every man, but you have to give a woman a ring.

It takes two to get one in trouble.

Love conquers all things except poverty and toothache.

I'll try anything once, twice if I like it, three times to make sure.

I generally avoid temptation unless I can't resist it.

All discarded lovers should be given a second chance, but with somebody else.

An ounce of performance is worth pounds of promises.

Love thy neighbor – and if he happens to be tall, debonair and devastating, it will be that much easier.
About Herself:
I believe in censorship. I made a fortune out of it.

I didn't discover curves; I only uncovered them.

I generally avoid temptation unless I can't resist it.

I never worry about diets. The only carrots that interest me are the number you get in a diamond.

I used to be Snow White, but I drifted.

I'm a woman of very few words, but lots of action.
A lot of the above I've heard time and again, but you know what? Typing her words into my blog, I'm born-again smitten with this incredible woman. Make no mistake: Mae West was a trail blazer in a time when women just weren't supposed to "act that way." She possessed an indomitable and indefatigable spirit, which took her far and paved the way for a sexual revolution — which literally changed everything. And aren't we the better off for it? As Mae, herself, said, "You only live once, but if you do it right, once is enough."
RIP Mae West (1893-1980)
Although …
… rumor has it that Mae West is alive and well and LIVING ON THE INTERNET.
xo, Angela
__________________________________________________
Bawdry and Filthy PHONE SEX INTERCOURSE
Dirty Mind and Filthy Mouth: Call Callie
Black and Nasty Shemale Whore: Vickitory Secret
BBW Loves it Rough: Kitten Chloe