Tuesday, January 13th, 2009
Sneaker Porn
or
What really really really gets me hot.
or
What I bought myself for Christmas.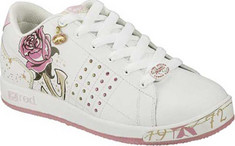 Adorable or what? Designed by Marc Ecko, I just had to have them. Surely you can't blame me … right? And you can find them here. We will not mention the fact that I have seven shoe boxes piled in the corner of my bedroom waiting to find a permanent home in my closet … seven pairs of shoes which I somehow kept buying in between all the holiday shopping. I'm a bad girl! But I know you like it.
So if you have a Sneaker Fetish (not to mention Stiletto, Boot, Sandal, Peep Toe, etc. etc. etc.) … Oh, yes, I'm most definitely you're girl!
Incidentally, Mr. Ecko is a pretty interesting guy, living his Post-Modern American Dream. Quite inspiring. Plus, he's cute.

xo, Angela