Monday, December 10th, 2007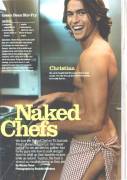 My understanding is that this cock cookbook doesn't really exist. Which is a shame, as I'd love to give it as a gift to more than a few of my friends and relatives. First on the list would be Bethany (my sister–remember?) who actually sent me these scans or whatever they are. I also have quite a few gay friends who would think it was a real hoot.
I'd probably go ahead and get myself one too. Hey! Just for the recipes; I mean that! I'm the girl who tried to boil eggs two days in a row and both times actually blew up the eggs. (Which, while I'm at it, thank you to a certain special someone who bought me the Kirkland cookware set. It's saved my butt time and again. If you're the type who burns water when you set it to boil, I highly recommend it. Everything and anything cleans up in a jiff–take it from she who has burned everything from said mentioned eggs to pasta to potatoes to hot dogs to even water).
The fellow above is Christian. No–it's not his religious affiliation, it's his name. Although if he stopped by to teach me how to cook, I might just get religion. Praise the Lord! Now let's get down to some shaking and baking.
Just so you know, I can cook when I have dinner guests. Among my more famous dishes: German Potato Salad, Blue Cheese Chicken, Greek Salad, Potato Soup, Home Made Sliced Tomato Pizza, Italian Vegetable Soup, Irish Pie, Hash Brown Casserole, Lentil Soup, Green Onion and Pasta Toss, Chili, and a Pot Roast that is so good it will make you fall to your knees and cry.
I also make a Peanut Butter Pie that tastes like a chilled, creamy Reece Cup. I've been told that each bite is like having an orgasm in your mouth.
Wanna come to dinner?
xo, Angela