Thursday, December 6th, 2007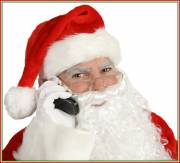 So Santa called me up a few days ago and once we got the kink (his favorites being Reindeer Games, Candy Caning and Santa Sissy Panties) out of the way, I asked him what he'd been up to.  "Ho, Ho, Ho," he said in that booming jolly voice I know so well.
"Well Angela, I finally took your advice this year, and in between checking the Naughty 'n Nice list, helping Mrs. Claus with the cookie baking, getting the sleigh ready, re-orienting the reindeer, and keeping up with last-minute additions to Wish Lists, I've been sneaking off to my den for a cup of hot chocolate and a little bit of the wanky wanky.  You know what I mean, don't you?"
"You're talking about doing the gingerbread jerk, right?"  I was pretty sure this is what he meant, as I'd often counseled him during our weekly calls throughout the year that during the month of December–his "crunch time"–it would serve him well to "relieve himself" as much as possible.  I mean every man–even Jolly Old St. Nick–can benefit from pumping the poinsettia when stress levels are high.
"Well, it's something like that, only better."
"Now, Santa," I countered, "what could be better than making your very own batch of creamy Egg Nog?"
I could hear the soft tapping of his gloved fingers on his desk, as if he was pondering what to say next.  I could feel him weighing his words, so as to not say something that might upset or offend me.  And so I nudged a bit more.
"Now, Santa Baby," I said in my most seductive voice, "you know you can tell me anything.   Don't you?"
"Er, um…  Ho..ho.."
"Come on, Santa, you can tell Miss Angela.  Or am I going to have to make you get the fruitcake?"
"Holy Christmas Tree!  Not the fruitcake!  It took three elves to get that out of my bottom last year!  You're right.  I've been making Egg Nog.  And I do mean a lot of Egg Nog.  Last night, I squirted so high that a big glob of it actually hit the Mistletoe the elves had hung the day before and knocked it into the fireplace.  Now let me tell you, that was a hard one to explain to Mrs. Claus.  The thing is, I've had some help."
"What do you mean, you've had some help?"
"Well, I've been calling other girls.  You haven't been around much, you know?  And I needed a break.  Everything was piling up. Rudolph's nose wouldn't light, Blitzen and Cupid were threatening to strike, we were looking at a shortage of iPhones (and everybody wants one), we ran out of red curling ribbon, the elves misplaced the–"
I couldn't take it anymore.  I was fuming.  "Okay, you were having problems.  I get that.  But you cheated on me?  You cheated on your favorite phone sex operator?"   I was half-tempted to hang-up on Santa right then and there, but I couldn't.  I had to know who these girls were.  And so I asked him point blank, "Who were they?  Who were these women who helped you do the Kris Kringle Jingle?"
"Well it all started with Secondhand Rose.  I know she's a friend of yours and noticed that she is running a Christmas Phone Sex Special.  You know she usually charges 2.19, but for the holidays she's lowered her rates to $1.59.  Like I said, you weren't around, so I gave her a try.  And, Angela, she is really good at this.  Really good!  So I've called her probably six or seven times now.  Please don't be mad.  She not only can do what you do, but she is very good at GFE calls, which you refuse to do with me."
Hearing that, I wasn't so mad anymore.  Secondhand Rose would treat my Santa Claus very well.  So if he was going to cheat, I was glad he was in her very good hands.  And he was right; he didn't get any of that cuddly Girl Friend Experience with me.  At least Rose could satisfy that itch for him.  But I wasn't done.  He said he'd talked to more than one girl.
"Who else."  I said it more sternly than I meant it, more like an order.  But that was just to get him to spill his bowl-full-of-jelly guts.  And it worked.
"You know for yourself, because we've talked about it, that I've always wondered what Luscious Lyndee would be like.  She has that cute ass and innocent look.  I think it was the night the elves forgot to put the screws under the legs of the hobby horses.  It was a disaster.  I left them to repair the damage and snuck off to call Lyndee.  Woo Hoo!  You should see what she can do with holly and berries.  And she's very good at tinsel bondage."
Obviously, Santa had talked to Lyndee on more that one occasion.  But she's a buddy, so, again, I wasn't very upset.  I mean, I'd never thought to tie him up in tinsel.  Gotta give the girl credit for that.
"Anybody else?"
"Angela," Santa said, "I admit it.  I've been a very bad boy.  In fact, my very own name might be on my very own Naughty 'n Nice list by now.  I've talked to quite a few girls.  Why don't I just tell you a little bit about them?'
"That's a good idea," I answered, no longer angry, just curious.  I was actually kinda-sorta glad Santa was finally learning to let down his white hair and have a good time.  He did have the most important and stressful job in the entire universe.  "Go for it."
"Well, I have been calling Isabel Blyss quite a bit.  She has the sexiest voice.  And she is quite original and very worldly.   She told me I needed to expand my horizons–that being Santa Claus was no excuse for insensitivity to other cultural traditions.  Then she made me put a dreidel (a rather large dreidel, I must say) you-know-where."
"Then there's Mistress V.  Now she is hot!  There is something about her that just makes Santa want to drop to his knees and bark like a dog.  And it's a good thing, too.  Because she made me do that and a whole lot more.  Did you know that there is a certain piece of sleigh tubing that can double as an enema hose?  Mistress V sure does know it.  And she's threating to have Barney the Elf bugger me the next time I call.  And Barney might be small in stature, but that's the only thing small about him.  If you get my drift."
"And I just had to call–"
"Okay, Santa, that's enough!"
"You're not mad at me are you?"
Of course I wasn't angry.  It's just that I had a feeling his list of PSOs might go on for hours.  So I assured him that I wasn't mad in the least; and that if I had to pick girls for him to call, these would have been some of my top choices.  Then I teased him, "But I always knew you had good taste, Santa Claus.  After all, you've been calling me for the last three years, haven't you?"
"Ho, ho, ho!  You're absolutely right, little girl.  So why don't you sit on my lap and tell me what you want for Christmas while I tell you about all the rest of the girls I've been talking with."
"Not tonight, Santa," I answered, "I have a headache.  But call me soon, because I really do want to hear all about it.  And I have a new game for us to play.  It's called the Nutcracker  Sweet.  Okay?"
"Sure thing, my sweet little Sugar Plum."
"Oh, and listen here, you fat little bastard, you better leave me a five star review."