Thursday, February 25th, 2010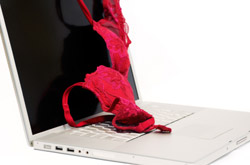 It matters to me that I do my job well; it really does. But despite the FemDom glam and glitz, I'm really just a mortal girl and certainly don't get it right every single time.
But nobody — absolutely no fuckin' body — can deny the fact that I put 110% into each and every call. Once I pick up that phone, the rest of the world ceases to exist, and there is just you and me and mischief extraordinaire.
It's nice to know my callers appreciate that about me. I never ask for reviews, but a lot of you go above and beyond to make sure I know how you feel, leaving generous 5 star commentary that causes me to grin from ear to ear. I sometimes forget to thank you. (Ya know … in the heat of the moment and all. *wink*) But I want you to know that I do read them and do appreciate your words.
So … let's see what you had to say. Shall we?
***** I am the deviant devotee of the diva of debauchery. Angela gives the expression glad-handing a very fine new meaning and I am, her humble and most appreciative servant. Thank you my gem of infinite facets; you are divine.
***** My God! She has fileted my gray matter, flambe'd my libido, sauteed my psyche. I am medium and she is rare. The sensitive, graceful sadism she practices is unique and addictive and like a naked General MacArthur, I joyfully exclaim "I shall return!?"
***** Sexy, intelligent, charming, articulate, controlling and wonderful. Time just melted away with Miss Angela. I can barely wait for our next encounter.
***** Magnificent as always; give her the seed and she will make it blossom with insight. Magic voice and wit. Best call ever!
***** Mistress Angela will open your eyes; what she does to the rest of you is too delicious to describe. The only way to get rid of a temptation is to yield to it. Resist it, and your soul grows sick with longing for the things it has forbidden to itself.
***** Ms. St. Lawrence, as always, you deliver the perfect mix of sexiness, intelligence and raw in-your-face perversion. I'll always come back for more, because there's absolutely nobody who does it better or badder.
***** 4 out of 5 hypno-verts recommend Angela St Lawrence over other brands of tele-Domme-ination. United States Dominatrix Association (USDA)-approved, 100% pure erotic juice concentrate, no bullshit added, hand-holding or other ego-preservatives added. The Ultimate "Stroke of Good Fuck." Zero carbs, all protein, (your own). "A-wunnerful, a-wunnerful."
***** The only problem is saying goodbye.
***** Nowadays, a brain is generally a rare find. A bright one is basically a miracle. And that's what Angela is, a miracle that is a real treat for both your sexuality and your intelligence. Be very good to yourself: read what she writes, and talk to her! Personally, I plan to do that often enough.
***** Angela is mighty wonderful – took my fantasy and ran with it and made it perfect. Very enjoyable! Thank you Angela.
***** Honest, intelligent discourse, Earnest in Her passion for Her craft…Thank You, Shall phone again..Merci…
***** Back to basics: a woman who listens first, has a free, uncensored imagination, the warm voice of your best lover, and the ability to spin the wildest erotic stories. I'd be in love if I weren't so busy being satisfied. Thanks, Angela, for yet another perfect call.
***** My #1 and only.
***** An international trip made reaching Angela a bit more complicated than usual – but once I heard her voice, I knew I was home. Even from half way around the world, she can make my heart stop. An intercontinental treasure.
***** Intuitive and completely in charge of the tale she weaves… satisfying and addictive…. very impressed!
***** Not just the very, VERY best on NiteFlirt. Angela St Lawrence is the very best ANYWHERE. You can find cheaper by the dozen, you can find more expensive "Flirts" by the score. But until you call Angela you'll ALWAYS be wanting just a little bit MORE!
You guys rock! Thanks from the bottom of my heart.
xo, Angela