Sunday, April 26th, 2009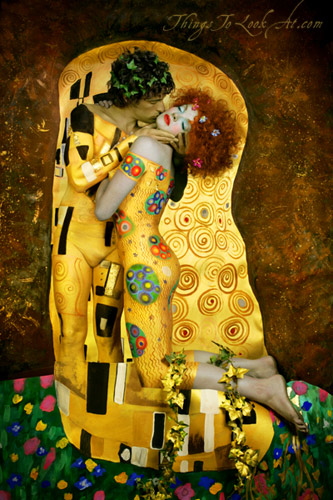 No, not that Heffner. We are talking about Burke Heffner, of course: my favorite-est Pin-Up artist/photographer. You may have read my interview? So I do occasionally check up on Mr. Heffner to see, well, just what the heck he is currently up to. And what do you know? Here (in all its glory) was this incredibly sexy and evocative homage to Klimt's unarguably most famous painting.
Dare I say it? I do believe Burke's version is better. I may have to inquire into just what it would take ($$$) to get this home and onto my bedroom wall.
Bravo, Dear Burke. Bravo, Kudos and kindly kisses.
______________________________
Phone Sex Quote of the Day
Men don't put as much stock in pictures of Phone Sex Operators as you'd think. Because — to be honest — the more you stroke, the better she looks. (Mr. F.)
______________________________
Phone Sex FemDom Goddess of the Day
Okay, I'm going to fess up: I am so smitten with Goddess Lycia that I could easily step down from my very own (somewhat rickety — I will admit) pedastal to worship at hers. She's that incredibly and honestly sexy. It's in a very "real girl" way, and I often wonder How does she pull that off — that home-spun beauty magically entwined with an edgy and slighty dangerous mystique? For Goddess Lycia, it's all about Mind Control. And you do know what they say about the brain being your largest sex organ?
You don't? That's okay. Goddess Lycia is a highly sought after HypnoDomme specializing in love and addiction, tease and denial, humiliation, feminization, and financial domination, and she will show you the way. The only way.
Who worships at Goddess Lycia's altar? In her own words: My boys are one or more of the following: submissive, vulnerable, helpless, hopeless, weak, mindless, manipulated, brainwashed, teased, denied, hypnotized, sissified, feminized, objectified, dominated, addicted, controlled, horny, hard, in love, obsessed, losers, wimps, panty-boys, piggies, atm machines, financial slaves, chastised, demoralized, cuckolds, empty, blank, puppets, sex slaves, sex toys, footstools, ashtrays, perverts, suckers, ass-lickers, boot-lickers, toe-suckers, house-cleaners, crossdressers, forced to be bi, forced into slavery, depersonalized…Which ones are you?
As our lovely Fem Fatale says at her website: Prepare to become addicted.
xo, Angela