Saturday, February 23rd, 2008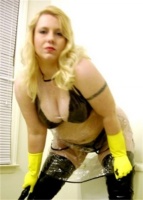 Mistress Eva Lordes of the website, Phone BDSM has started a sweet little BDSM community for Mistresses and Slaves, BDSM Sex, so if you have that particular bent, she will welcome you with open arms and perhaps a nice cat 'o nine tails. You can touch base and interact with Lifestyle Mistresses, Phone Mistresses, Professional Domiatrixes and a wide variety of submissive types.
In just a few days time there are already over forty members, but every time I check back that number expands. You can read member blogs, create your own blog, send messages to "persons of interest" and upload videos and pictures.
So if you had no plans this weekend, now you do!
***
Slip of a Girl has opened up an Amazon Lingerie Shop which features just about every sexy girlie thing you could possibly desire. And while you are checking out her blog (a must for all lingerie fetishists), note her Tops Spots List (to the right, about a third of the way down) where you can be listed for only $1.00. She gets great traffic, so it is an absolutely fantastic deal.
***
Sweat Shop Sissy just got a rave review from Jane's Guide and I'm sooo jealous:
Our host at SSS is a cross-dressing sissy and he (and his wife) loves it. His blog is a sort of discussion and play-by-play of their exploration into the world sissification; but he also writes about whatever strikes his fancy, which leads to some very interesting discussion. Additionally, SSS and his wife are avid exhibitionists and he regularly posts pictures of them in various states of dress and undress. Even (or especially) if you think the sissification of men is odd, this site is worth checking out. – Shay
(And while you"re at it, have you been to Jane's lately? The entire site got a makeover a while ago and the new design is just adorable. ie. The Valentine decor includes a picture of a heart and key with "We've got the key to your heart lust right here.")
***
Have you visited My Flirt Store yet? It's a great little new place where both Phone Sex Operators and Web Cam Girls are selling a variety of items including MP3s, videos, erotic stories, and naughty pictures. You're sure to find some of your favorite gals there: Simmering Mistress Nicole has a some "must have" instructions for Sissy Boys to download. Phone Whore Karen (a rather submissive and very naughty young lady) is selling some incredibly hot pictures. The beautiful and big-breasted Arielle has some sweet tease video and black stocking pictures available. There are pages of goodies to browse, offered by a bunch of very sexy ladies, so be sure to check it out.
***
I've mention this before, but I wanted to remind you about Miss Eve Scarlet's Phone Sex Node. It is a free-to-join site for both Phone Sex Operators and Callers. Blogs, videos and pictures are all free. That's a good thing. And, yes, I am a member.
***
Do you have a hot site that pertains to fetish, kink, BDSM or anything in between? If so, be sure to get listed at Polyfesishist, which is hosted by our own Submissive Savant, Richard of Down On My Knees. He doesn't require a link back, but it sure would be nice if you linked back anyway. Dontcha think?
***
And, last but certainly not least, if you're looking for a kinky forum at which to hang your CBT6000 (translation: participating in meaningful, intelligent conversation about all things kink) you won't find a better gang than the people at Fetish Lore. The environment is open, sincere, supportive and even downright nurturing. I can't recommend it enough.
***
So I've given you enough to occupy your time and keep you out of trouble over the weekend. But if you simply must have some trouble, you know where to find me.
xo, Angela