Wednesday, July 28th, 2010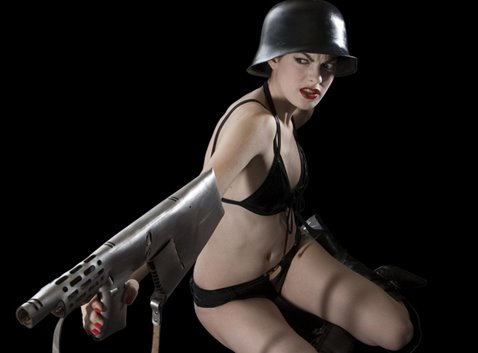 … or else.
I dunno. I guess the problem is that when I don't know you and you don't know me and it is the first time we've spoken …
… well, it's creepy. It's smarmy-creepy when "Hey, baby" are the first words out of your mouth. Did you even take the time to find out my name? Check out my Free Phone Sex Stories or this Free Phone Sex blog? Or scan my various Phone Sex listings at NiteFlirt such as Prick Tease or Literate Smut or Macho Sissy? I'm absolutely certain that the answer is a big, fat resounding ENNN OHH.
Because here's what happened (and I'm always right about these things, so don't even attempt a protest): You found yourself with your dick in your hand. Your dick wanted a P U S S Y. Not a woman, not Angela St. Lawrence or even a girl by any other name. You just wanted a PUSSY.
(Which begs the question: Would a pussy by any other name still smell as sweet?)
Regardless, we both know that you and your selfish prick could care less if you were talking to Angela, Mindy or Theresa. You didn't know my name, because you didn't care who I was as long as I possessed a vagina. In other words, in this particular instance ('cuz certainly you don't operate this way in your everyday life; say it isn't so, dear man), you were actually using "baby" as a pronoun.
And not a pronoun as in "you." I wasn't me to you. I was an it. Calling me baby was the equivalent to calling me IT. So guess what?
Baby = It = Pussy = No Phone Sex for You from Me
Yanno … You really should be more of a savvy shopper when it comes to calling a Phone Sex Operator, because there are many men who are so talented at changing there voices that they actually take calls — usually from the stOOpid (that would be you) boys — in their girly-girl voices and collect your cash by the minute while you jerk. Yes, they are low-life posers too lazy or dumb to get a real job. But guess who their target market is? Y. O. U. Because they know they can get away with it. I have to admit that there's a sweet poetic irony in that for me.
And yes, you pissed me off and that is why I ever-so-abruptly hung up on you. Call me cranky, call me a bitch, call me too demanding. I don't care. FYI, you've also been permanently blocked so I never have to hear your slimy voice again.
So to HDB, jellyfish, Pervert Savant, Mr. Smith, et al: Okay, so I wasn't on my best behavior today. Not so charming, not so sweet, not so tolerant. But, as you fellows and most of my readers and/or callers know, I've recently moved. It's been hectic and stressful and energy-depleting. A girl can only take so much, dontcha know?
And, really now … is it so wrong to expect at least a sentient being on the other end of the phone when I pick up? Should I or any girl be subjected to the guttural demands (because with that intro, you know they were coming) of loutish clochards operating on three brain cells at best?
Tell me I am wrong, and I'll try to do better the next time. Honest Injun. *fingers crossed*
In the meantime …
Well, men really can be damnably dumb at times. From my sister:
Three mischievous old Grannies were sitting on a bench outside a nursing home when an Old Grandpa walked by. Grandma One yelled out, "We bet we can tell exactly how old you are."
The old man stopped and shook his finger at the Grandmas. "What are you? Crazy? There is no way you can guess my age, you old fools."
Grandma Two answered back, "We're not crazy and we can prove it. Just drop your pants and under shorts and we will tell you your exact age."
Embarrassed just a little, but eager to prove the old women wrong, the Old Grandpa he dropped his drawers. Grandma Three asked him to first turn around a couple of times and to jump up and down several times. Determined to teach the old women a lesson, the old man threw common sense to the wind and began whirling and jumping as the old women screeched and howled until tears were running down their cheeks.
"I don't know what you old bats are laughing at," said the Old Grandpa, stopping to catch his breath, "you still don't know how old I am."
Then all three Grandmas all piped up and said, "You're 87 years old."
Standing with his pants down around his ankles, the old gent asked, "How in the world did you guess?"
Slapping their knees and grinning from ear to ear, the three old ladies called out in unison…
"We were at your birthday party yesterday!"
BTW … been super busy with this move. Unpacking, shopping, decorating, etc. I will be blogging and taking calls most days, now that things are starting to come together. We've got some dirty stuff, some interesting news and a whole bunch of mischief waiting just around the corner. So stick around, get comfortable, loosen your tie or drop your drawers or pop some popcorn. Hopefully it will be a very bumpy ride.
with much affection, Angela
(photo credit: The Pirata)